Cooking Israel For Tu B'Shevat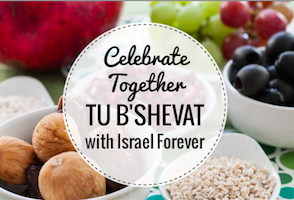 The Trees we honor for Tu B'Shevat bestow a bounty of incredible flavors of the Land of Israel. Grapes, Figs, Dates, Oranges, Pomegranate seeds, Olives, Honey, Almonds, Walnuts, Pecans, Bulgar, Quinoa, Apples…the list goes on! So Let's Get Cooking Israel with some of these awesome recipes of Seven Species and More!
Don't for get to check out The Tastes of Tu B'Shevat™ Recipes - click here to view as a downloadable PDF, and try some of these delicious dishes at your own Tu B'Shevat seder!
Barley - Shiurah - שעורה
---
Date - Tamar - תמר
---
Figs - Te'enim - תאנים
---
Grapes - Anavim - ענבים
---
Olives - Zayit - זיתים
---
Pomegranates - Rimonim - רימונים
---
Wheat - Chita - חיטה
---
---
Hungry for even more Tu B'Shevat recipes? Check out these great blogs:
---